You are here
In Memory of Azar, a woman who broke the SILENCE
Fri, 06/01/2012 - 22:58 - kandolo
Azar, a woman who was breaking the silence
Sorrow of the lost of a determined and firm internationalist communist- feminist refugee, Azar Derakhshan (Mehri Alimalaieri)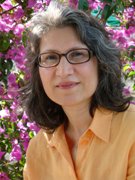 We (the Caravan for the rights of refugees and migrant) have lost one of our active companion women. We regret her decease and expressing by our heart our condolence and sympathy to her comrades of communist party of Iran (MLM), 8 March Women's Organization (Iran-Afghanistan), her respectful family and friends.
Together we fought for a long period of time against the unjust state and social approach toward the people. Azar was among those who supported the first historical tour of caravan and reflected it among Iranian society. At the first big international conference of Caravan in Jena in the year 2000 "Caravan International Congress of Refugees and Migrants" among different discussions, Azar was one of the lecturers about women problems. Her lecture gave an insight into the discriminatory approach of German state against mixed families. Although the bourgeois feminist in that conference were against foreigner men in mixed families, Azar like the stand of caravan was arguing how in this case the German women are under discrimination. During her input speech she exposed the cultural relativity upon which the German state ignores the basic human rights of foreigner women.
After this conference the CARAVAN for the rights of refugees and migrants and the Eight of March Women's Organization (Iran-Afghanistan) together launched a big campaign in exposing the collaboration between German state and Islamic Republic of Iran in oppressing the Iranian women refugees. Germany ordered Iranian women to bring pass picture with headscarf, in order to deport them easily. The struggle against this practice proved how important it is to continue the struggle in the belly of monster. It showed at the same time how closely the interests of imperialism and fundamental religious regimes can be connected together. In fact this is a relation between master and marionette regimes.
We together with 8 March Women's Organization (Iran-Afghanistan) and some other Iranian groups had one month sitting strike in the city of Bremen in protest against recognition of Iran as a safe country by European countries. We also have fought together against demagogy of presence of Khatami, the former president of Iran, as the symbol of peace, reform and modernism, in Berlin and Weimar.
Caravan was also one of companion of "5 days march" in protest against unequal Islamic laws and punishments against women.
We were together in many cases like what we did in Rostock against G8, to fight and protest against Imperialism. In all those fights Azar was one of those who were insisting that refugee must fight in two interrelated fields: against her/his own reaction and imperialism. But more than that, a woman refugee is obliged to fight also against pathetical system, against oppression of women by man. This is why we regret so deeply her loss.
The funeral ceremony for Azar will be held
on Friday, June 8, 2012 at 10am
Cemetry Père Lachaise
Paris, France
at the gate close to Place Gambeta
For more information please contact: 0033652986157
CARAVAN for the rights of refugees and migrants
May 31, 2012